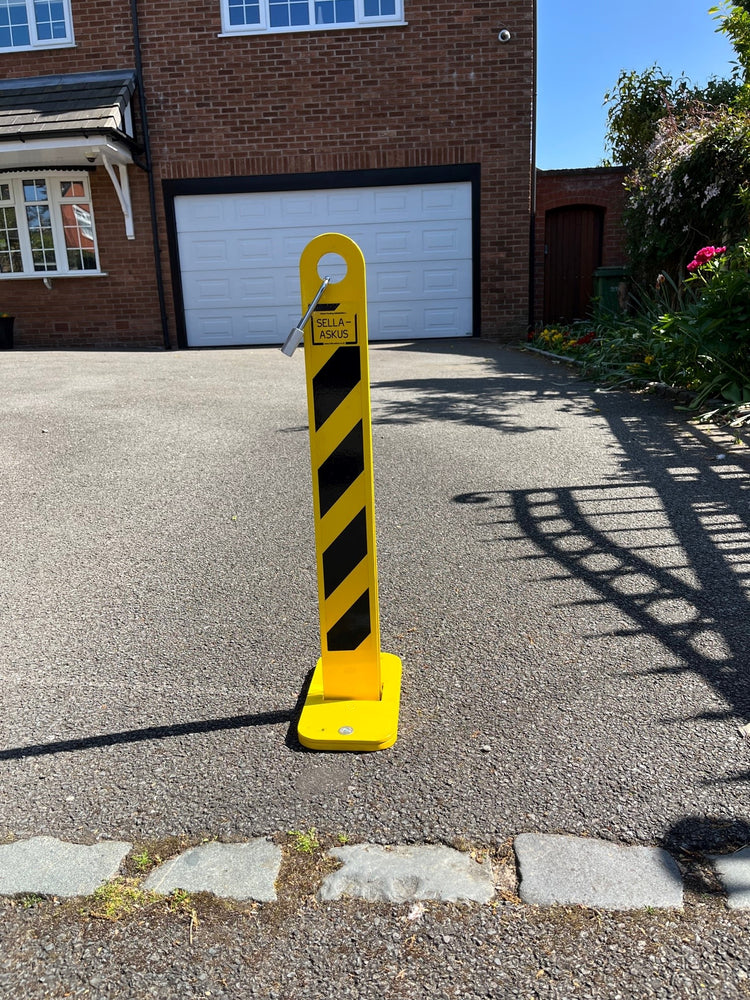 LOCK And BLOCK Origin Story
Designed for use as a parking deterrent, the SELLA-ASKUS
Bollard / Security Post can be fitted by just drilling 2 holes into the ground. Made from zinc sprayed and powder coated steel the SELLA-ASKUS Bollard is strong, robust and weatherproof. A unique fixing mechanism means that when the two legs are inserted into the base plate and locked together, they cannot be removed, thus creating a formidable deterrent.
When legs are removed the base is strong enough that it can be driven over without causing any damage. When not in use, legs can be locked together in a suitable location or kept in the boot of your car.
Features & Benefits
No need to concrete in (although it can be if required) – can be fitted by average DIY
person.
Surface mounted not sunken into ground.
Base unit only 16mm high represents minimal or no trip hazard when bollard removed.
Steel construction can be directly driven over (not just straddled) when bollard removed.
Steel construction, zinc sprayed, powder coated  – strong, robust and rust resistant.
Bollard / Post is made of two pieces that fit into slot base unit. – No training required can be fitted and removed by anyone.
Locking mechanism at top – no need to crouch down to lock and unlock.
Locking via padlock choose your own lock and level of security.
More than one can be chained together.
610mm high with black and yellow markings – very visible.
Only 16-17mm high - no chance of catching the underside of low cars & minimal trip hazard.